This year 2022 our SRC panel V2 includes two substantial improvements. On the one hand, a 7-way joystick that replaces one of the rotary encoders. And on the other hand, a new function to be able to have many more inputs in the simulator than those allowed by the steering wheel itself. This is the SRC Extended Mode and its operation is very simple.
But before going into detail, we recommend using this Software valid for all types of USB devices (steering wheels, pedals, shifters, button boxes, etc..) that allows us to test and visualize all inputs. Keep in mind that the Windows game devices panel does not work well for controllers with many inputs.
DOWNLOAD Joystick Test Application (Planet Pointy)
By default, the SRC panel V2 includes 20 inputs that are shown in the following photo.
But in the event that we need to have some more input without the need to use any external software such as JoytoKey or Xpadder, we can permanently configure the extended mode and reach 36 inputs.
This is achieved by sacrificing one of the 4 corner buttons to add extra input in combination.
Example: If the top left button is the number 1, we can set it to be an "ALT" button. If we press it, the computer does not detect it, but if we keep it pressed and at the same time press button 5, we will have an extra input on the computer. If button 5 is pressed in isolation, it will give us input 5 on the computer. In this way, we got almost twice as many inputs.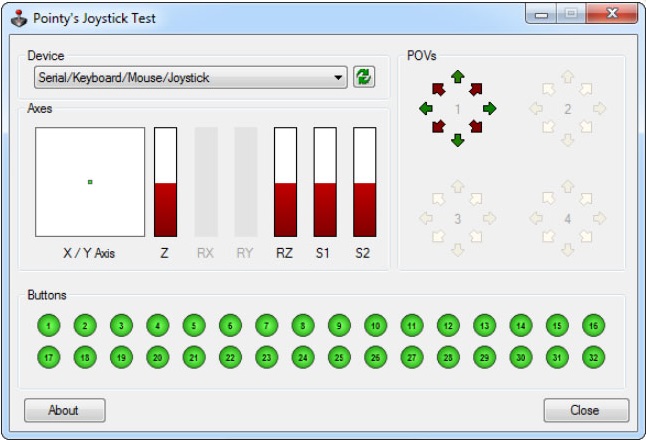 This configuration is saved in the firmware of the wheel, even when disconnected from the computer.
To activate or deactivate this extended mode, we attach this sheet where it is explained in a very intuitive way.
Activate SRC Extended Mode: Press one of the two paddle shifters and one of the 4 corner buttons for 1 second. 2 short beeps will be heard.
Return to Standard mode: Press the 2 paddles at the same time for 1 second. 1 long Beep will be heard.